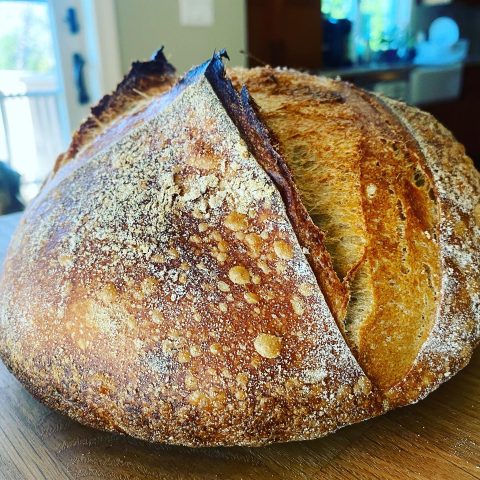 Do you like Sourdough Bread? 
Learn how to make it at home!
Register for this special "Taste & See" class to be held on
Sunday, March 5, 2023 at 10:00 am
Watch our team demonstrate the process,
and when class is done,
we will enjoy some fresh bread and soup!
---
Class Outline:
Sourdough Terminology

Sourdough Benefits

Do it "right"?

Starters

Hydration, Measuring, and Bread Math

Autolyse (Fermentolyse?)

Kneading, stretching, and folding – Why?

Bulk Fermentation –Know when it is done!

Pre-shaping and Shaping

Cold Proofing

Scoring

Baking
Registration 
Door Prizes

Pre-registered attendee will be entered in a drawing for door prizes!

Eligibility Requirements:

Must be pre-registered
Must be present to win
---
​Meet your Instructors
​

Amanda



​Amanda enjoys baking, homemaking and gardening.

Her mom taught her to bake bread before she was 10 and she has been doing that ever since.

A few years ago she developed a sourdough starter and has enjoyed making sourdough bread and sourdough baked goods ever since.

Since she has 3 young helpers, if you have any questions on if a neglected, haphazard loaf turns out, the answer is yes!

​

​Photo coming soon!

 

Carla, also known as GG or Grandma Goodie, so named by her first granddaughter.

I can be found most times in my kitchen or lab as it's called by those who know me.

I have been cooking and creating recipes for more than thirty-years, so, it seemed only natural to try my hand at sourdough breads.

It all began with a sourdough starter that launched my interest and after the first try, I was hooked.

Later watching a few how-to videos and reading many expert blogs, I discovered a new truth about sourdough bread making.

The truth is, it's less of a science and more of a joy that is responsible for the beautiful crumb and lovely sour taste; it's like no other type of crafted bread.
​ ​

​

​

​​​Gregg has been baking with natural yeast for nearly 8 years.

He has made various breads and pastries including baguettes, ciabatta, and croissants.

He has now has two sourdough starters Genevieve and Rye-an. 

Tim


Tim is a retiree from 40 years in Information Technology. 

Not long after, he started something he had never imagined...baking bread at home.  Ironically, at first, he had zero interest in baking sourdough.

Credit for sparking his interest in sourdough goes to fellow instructor Amanda!  After his initial failed attempt to create a starter (not enough patience), he almost took Amanda up on her offer to give him some of her sourdough starter.

However, after watching some YouTube videos and another attempt, the rye starter later named "Death Starter" was born!

He now divides his time between home-baking, volunteer IT support for the church and school, and traveling.
---
 Recipes
Recipe
Contributed By
Description / Notes
Tim
Your basic sourdough loaf baked on a stone, steel, or dutch oven.
Tim
A great every day loaf.

​

​

Tim
Check this one out if you want a loaf of sourdough that could be a dessert!

​

​

Tim
How to take care of your sourdough starter.